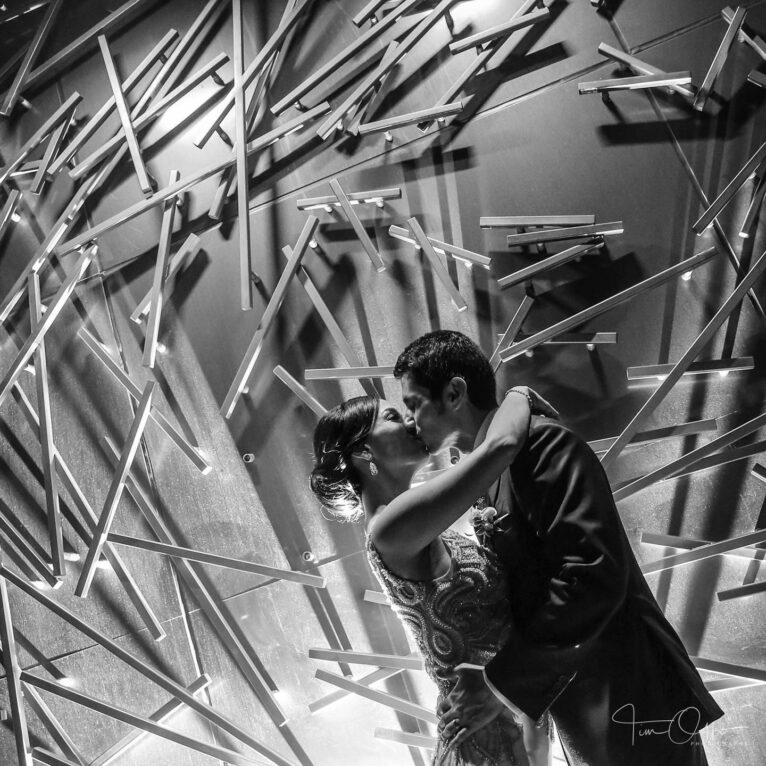 Newlyweds Illiana and Frank tied the knot right beside the beautiful sea front in InterContinental of San Diego. Their best friend blessed them on their way while there sons stood next to the lovely couple. Leia Brune from Bliss Events planned a perfect event renting from Concepts Events and Cedar+Pines Event Rentals.
After this gorgeous ceremony, it was DJ Earl's time to keep the celebration going! Using a list of songs from the bride and groom and his experience, he was certainly ready to do so! With a little mood lighting from MyDJ's services, the reception had a breathtaking ambience. The bride and groom danced beautifully to their song, "Come Rain or Come Shine" by Ray Charles, in front of their monogram cascading on the dance floor.  Taylor Films recorded the whole event making sure to catch the smiles of the speeches and the joy of the bride and groom. "At Last" by Etta Jame  played while the couple cut their stunning cake. After dinner, it was time for all the guests to dance the rest of the night away. Dawn Steele from Gaslamp Floral provided the bride a elegant bouquet to toss to the single ladies during the song "No Scrubs" by TLC. Photographer Tim Otto captured the night perfectly, shooting memories that would last a lifetime for the couple and friends. Ending the night with "Last Dance" by Donna Summers, the couple danced their way into the rest of their lives together.
Congratulations Mr. and Mrs. Vargas!