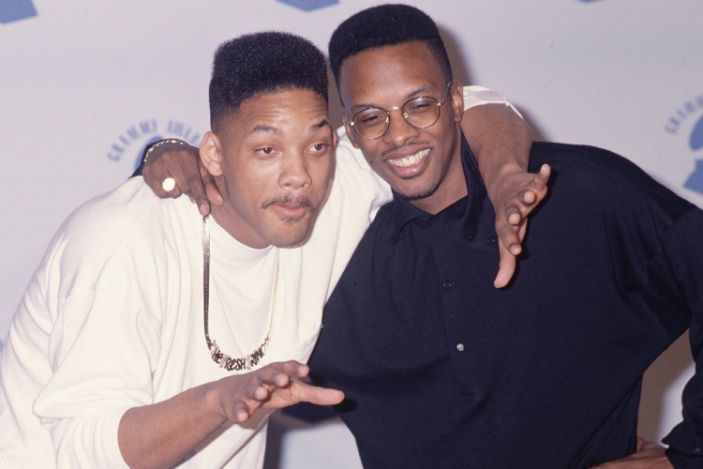 DJ Jazzy Jeff said he couldn't get tested for COVID-19
Will Smith is catching up with DJ Jazzy Jeff after the music producer recovered from what he suspects was the novel coronavirus (COVID-19).
Smith, 51, spoke with his longtime friend in PEOPLE's exclusive sneak peek of Wednesday's episode of his new Will From Home Snapchat series, in which Jazzy Jeff, 55, opened up about recently falling ill with coronavirus-like symptoms and being diagnosed with pneumonia in both lungs.
"I came home from my trip. I was like, 'I feel like I'm coming down with something' and got into bed, and I don't remember the next 10 days," Jazzy Jeff recalled during his virtual interview with Smith, who was filming in the basement of his home. "I had a temperature that reached 103. I had the chills. I lost sense of smell. I lost sense of taste."
"Wow," the actor remarked.
As if things weren't difficult enough, Jazzy Jeff said he couldn't get tested for coronavirus despite showing symptoms of the highly contagious respiratory illness.
"They gave me a flu test," the music star remembered. "And when I went and got the chest X-ray, she came in and said, 'You have pneumonia in both your lungs.' "
Smith went on to share how "scary" it was hearing about the sickness from Jazzy Jeff's wife Lynette because she "doesn't panic, and she called me with the panic vibes."
Lightening the mood, the Bad Boys for Life star joked that he "immediately called D-Nice to see if he would be available" to appear on his show. D-Nice is the deejay behind the virtual club nights on Instagram Live that has attracted Drake, Rihanna and Michelle Obama.
Source: People Magazine